New GO International Private Label Collection in store at Target
A look from GO International Private Label 5, $44.99
Target's GO International private label collections are never quite as good as the ones done by their guest designers, but they're still a step above the mass retailer's usual offerings in quality and design. The fifth collection, slated to hit Target stores and
target.com
today, is typical of these collections. As a whole, it's relatively disjointed - some punk rock here, some girlie frocks there. It seems there are always a few great pieces and a bunch of others that are either over-designed or generic. My favorites: A draped skirt in multiple shades of blue (below, $27.99) has a hand-painted couture look that's impressive for something so affordable, while the pink, fuchsia and grey one-shouldered dress (above, $44.99, available 2/15) would make a great pre-spring party dress. (UPDATE: As of Feb. 5 the line is still not available on the website and it has not yet been spotted in stores. What gives?)

A look from GO International Private Label 5, $27.99
Oscar de la Renta Spring 2009 Trunk Show at Nordstrom
Images courtesy style.com
The chance to view the entire collection by an internationally-renowned fashion designer up close is a rare opportunity - even if you can't afford to buy any of it. If you're a true fashion lover, samples from Oscar de la Renta's Spring 2009 collection will be on display at
Nordstrom at the Mall of America
(11 a.m.-4 p.m., Feb. 4-5). The Spring 2009 collection features de la Renta's signature luxurious fabrics, embroidery, and ladylike elegance, though it could perhaps stand to loosen up a bit. In these trying economic times, wearability are just as key as quality and design.
ROX trunk show at Luna Vinca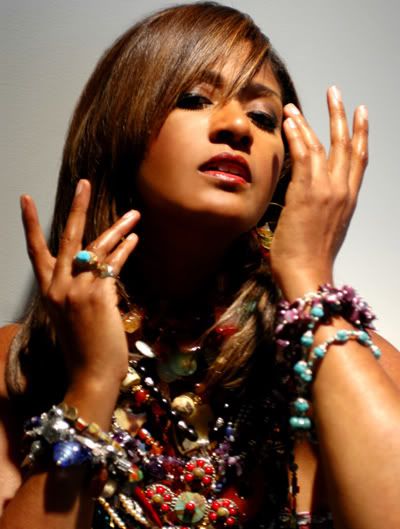 Robyne Robinson in ROX / Image by Digital Crush
Even if you can't afford to take a trip to an exotic locale this winter, you can at least wear a piece of it. Local jewelry line ROX by designer Robyne Robinson fields most of the materials used in her one-of-a-kind designs from Greece to Paris to obscure tiny islands. She'll be showcasing her latest finds in elegant arrangements both delicate and bold at this trunk show Saturday from 12-5 p.m. at Luna Vinca.

For more local shopping news, check out my write-ups on the Fashion page of next Thursday's edition of Vita.mn.